How to Deal With a Parent Who Has Dementia?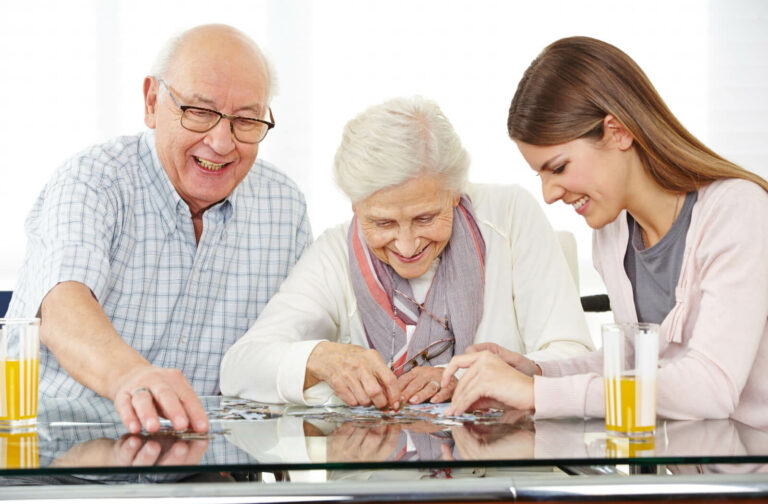 Caring for a parent with dementia can be both rewarding and challenging. You want them to receive the support they need to feel fulfilled and safe. However, it can be overwhelming trying to determine what services or support systems they need—or you need as a caregiver. 
Fortunately, many types of care services are available, so you can find what feels right for you and your parents.
Dementia is the loss of cognitive function—skills needed to think, remember, and reason—and interferes with a person's daily life. Dementia is not a normal part of aging, but it is more common as people grow older. More than 5 million adults over 65 are affected by dementia.
The causes of dementia can vary depending on the type. According to the National Institute on Aging, the 5 most common forms are:
The signs and symptoms can depend on the dementia type and the individual. Those with dementia experience changes in behavior, thinking, memory, and movement—the care your parent needs can depend on their symptoms, availability of resources, and comfort.
Many seniors want to age in place, but even the best-laid plans can be interrupted by the unexpected. Seniors, their families, and caregivers should consider safety concerns, medical care, home maintenance, and social connections. Arranging services for physical needs is only one part, as seniors need a support system for their emotional needs.
Dementia develops over time, with worsening symptoms categorized into 3 stages. The type of care your parent needs will evolve as their symptoms advance:
Mild: People with mild symptoms can live independently but experience difficulty with complex tasks, including managing finances.
Moderate: Changes in behavior, increasing confusion, difficulty sleeping, poor judgment, and significant memory loss can interfere with daily activities and self-care. Those with moderate dementia need caregiver support for their safety and comfort throughout the day.
Severe: Those with severe dementia need 24-hour supervision. They can experience symptoms affecting mobility and physical capabilities, from walking to swallowing. There is also a significant risk of additional health problems and infections, increasing the need for medical care access.
Making a plan with your parents can ensure they have a voice in their care as the disease progresses. If your parent is already in the moderate stage of dementia, it's still essential to discuss plans for their care. But to help the process, you might rehearse the conversation, get advice from their primary physician, or find the best time and place to ensure they're comfortable.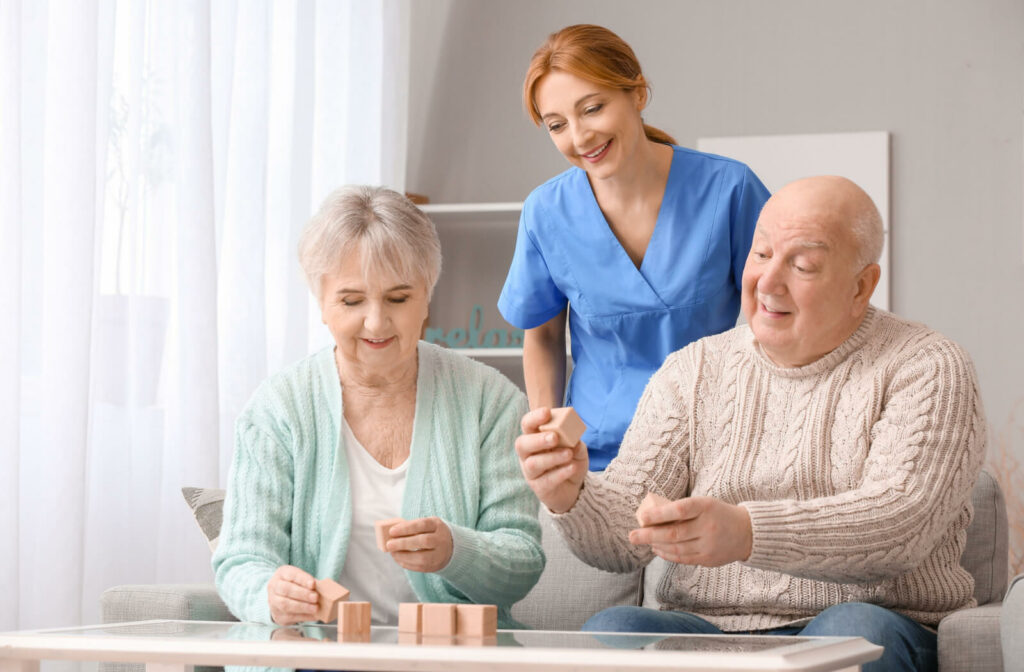 As your parent's needs change, they may need more care. Or, they may benefit from a residence with greater social activities, as isolation from a community and social connections can increase their risk of health problems and depression.
Memory care is for seniors living with dementia (including Alzheimer's disease) and Parkinson's disease. The facility is a residential community where seniors can receive personalized support from professionals with experience with cognitive impairment. Your parent has access to 24-hour care, including caregivers and medical staff.
While the services available can vary depending on the facility, many memory care homes offer:
Assistance with grooming & self-care
Coordinated care with physicians
Housekeeping & laundry services
Medication management
Nutritious meals & food services
Social activities
Wellness programming
Memory care facilities also have unique features to support their safety. For example, the staff is trained in common behavior problems, like sundowning and agitation or anxiety.
Respite care is full-access care for short-term stays. There are many reasons why you or your loved one might consider respite care:
You want to provide your family member with the best care, but primary caregivers sometimes overlook self-care. Caregiver burnout is when a caregiver experiences physical, mental, and emotional exhaustion. As a result, caregivers may feel alone or overwhelmed.
Caregivers can experience a range of symptoms, from physical pains to depression, affecting their ability to provide care. Unfortunately, caregiver burnout is common but can be prevented and treated.
Taking a break can help caregivers recover. In addition, respite care ensures caregivers get the time and support they need while their loved one receives care.
POST-SURGERY OR INJURY RECOVERY
When your parent needs additional, but only short-term, care, respite care can provide the medical services required to support recovery. For example, they may need 24-hour supervision after surgery or assistance with physical care after an injury. They can receive advanced care in a place as cozy and comfortable as home.
Considering memory care but still have questions after a thorough tour? Is your parent curious about the amenities and experience? Respite care can be a trial run before committing to a long-term stay.
Some seniors may resist leaving their homes, often because they think of the old-fashioned "old folks homes." But modern residential communities for seniors are full of life. When your loved one is unsure if a care facility will suit them, give them a chance to test it out. Living the experience firsthand can set their (and your) mind at ease.
A short-term stay can also benefit caregivers when they need time to make a plan or consider their parent's care options.
Your loved ones deserve more than a care facility. They deserve a home where they can thrive. At Ocean Meadow Memory Care, we believe everyone has the right to a high quality of life, regardless of how long they plan to stay with us—whether for a few days or weeks. So we tailor our resident's lifestyle and care to support their whole well-being.
When looking for the right care for your parent, schedule a tour and get to know our community. Contact us today!