Caregiver Burnout Quiz: Should You Access Respite Care?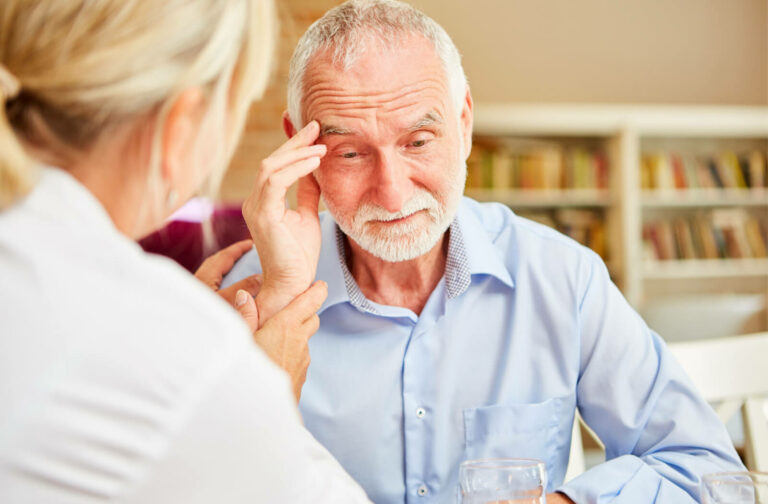 Nearly 6 million Americans are affected by Alzheimer's, a form of dementia that slowly kills brain cells and shrinks the size of the brain, causing issues with memory, thinking, and reasoning. Not only does it impact the quality of life of the person with Alzheimer's, but it also affects the lives of their loved ones.
The symptoms of the disease can progress over many years and sometimes manifest as personality changes you may not notice at first. Over time, the symptoms become more apparent. Eventually, you'll likely need help caring for and managing your loved one's quality of life.
Today, we're looking at how Alzheimer's can affect your loved one and some strategies you can use to keep them happy, healthy, and comfortable.
The responsibility of caring for a family member with Alzheimer's can be immense. We've outfitted our community with the latest memory care techniques to support those struggling with cognitive impairments. If you think a memory care lifestyle is suitable for your loved one, please contact us or book a tour through our community today.
HOW DOES IT AFFECT A PERSON?
Because Alzheimer's is progressive, early signs and symptoms aren't always noticeable. However, it can seriously affect your loved one's quality of life and lead to several issues.
Early Alzheimer's can manifest as forgetfulness, but it can progress into personality changes, memory problems, reasoning and judgment impairment, and a loss of life skills.
As the disease affects the brain, your loved one can experience numerous changes in their personality and behavior. These changes can include:
Anxiety
Depression
Mood swings
Social isolation
Wandering
Delusions
Poor sleeping habits
https://www.shutterstock.com/create/editor/CiQ4MzhkYTEwNi1kODgxLTRmZGYtYjFmMS05ODhjN2JiNjQ4N2E
Memory loss is one of the most common symptoms associated with Alzheimer's. As the issue progresses, it can cause both long and short-term memory problems like:
Difficulty keeping up with conversations
Repeating questions they've already asked
Forgetting appointments and events
Difficulty remembering names of people and objects
REASONING & JUDGMENT IMPAIRMENT
Alzheimer's can also affect reasoning, judgment, and thinking skills. As the disease develops, your loved one may struggle with making decisions for themselves or managing routine tasks like finances or home maintenance.
They may also make decisions like dressing inappropriately for the weather outside or adding strange ingredients to some of the meals they cook.
THE LOSS OF OVERALL LIFE SKILLS
Alzheimer's can also affect several skills your loved one used throughout their life, like the ability to:
Read
Write
Talk
Dance
Play an instrument
Do crafts
Tell stories
Despite how Alzheimer's can affect our loved one's quality of life, there are many ways you can keep them feeling safe, secure, and comfortable.
However, if their needs exceed your caregiving abilities, it's important to find help. Sometimes, you could turn to friends and family to help manage your responsibilities, or you can look into memory support communities, like ours, which provide specialized care explicitly designed for those with cognitive decline.
If you'd like to know more, please contact our team. Otherwise, here are some practical strategies to help.
Alzheimer's can make every moment of every day a brand new experience, even if it's part of a routine. You can help manage anger or anxiety your family member feels by keeping their life as simple as possible.
Simplification can look like:
Downsizing their belongings
Rearranging their house so it's easier to navigate
Keeping their outfits relatively similar
Asking simple or yes/no questions
REASSURING, NEVER ARGUING
There will undoubtedly be a point where you might become angry or frustrated at the situation, and while this is completely normal, it's important never to blame your loved one.
Always remember to reassure your loved one and keep them feeling safe. Arguing with them can cause mood swings, depression, and anxiety.
A positive, supportive environment can significantly improve your loved one's outlook—and even your own. Always remember that you and your loved one are in this together, and seeing the humor or bright side of things can bring levity to the heaviest moments.
SEE HOW A MEMORY CARE LIFESTYLE CAN HELP
Eventually, the needs of your loved one can exceed your capabilities. And when this happens, it might be time to consider a memory care community to support their quality of life.
Visit Ocean Meadows Memory Care today to learn more about how we can care for your loved one.